Batterie Batterie (CFP21000, 2V, 1000Ah)
FirstPower bringt Ihnen nicht nur zuverlässige Batterie und Technologie, sondern auch ausgezeichneten Service und echten Wert, den Sie erwarten und genießen werden. Wir begrüßen Bestellungen mit der Marke "FirstPower"; Wir sind auch flexibel bei der Annahme von Aufträgen auf OEM-Basis. Kontaktiere uns jetzt! Ihre Partnerschaft mit FirstPower wird es wert sein.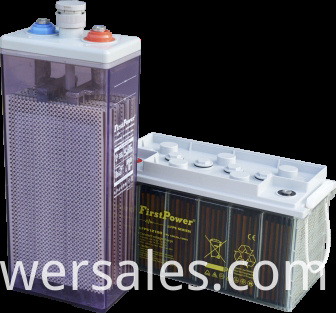 Internationale Zertifizierungen:
ISO9001-Zulassung, FN: Q3105105131
ISO14001 CTC04912E10302ROM
OHS MS18001 04912S10150ROM
UL-Zulassung, FN: MH28204
CE-Zulassung, FN: G2M20201-0102-D-16
KS-Zulassung, FN: KS C 8519
VDS-Genehmigung
BS-Genehmigung
CFP-Serie Batterie Allgemeine Funktionen
Nicht auswegbereit
Versiegelter und wartungsfreier Betrieb
Hohe Qualität und hohe Zuverlässigkeit
Außergewöhnliche Tiefentladungsrückgewinnung
Geringe Selbstentladung
Lange Lebensdauer
Solide Kupferklemmen
Tank-geformte Platten
Computergestütztes Design und Herstellung
UL, CE, VdS genehmigt
Typische Anwendungen
Telekommunikationsausrüstung
Elektronische Instrumente
Feueralarm
Sicherheitsgeräte
USV-Stromversorgung
Notfallbeleuchtung
Spezifikationen
Nominal Voltage
2 V
Capacity
(25ºC)
10HR(1.80V)
1000 Ah
3HR(1.75V)
765Ah
1HR(1.75V)
565Ah
Dimension
Length
475±2mm (18.70inch)
Width
175±2mm (6.89inch)
Height
330±2mm (12.99inch)
Total Height
367±2mm (14.45inch)
Approx. Weight
61kg (134.5lbs)±3%
Terminal type
T10
Internal resistance
(Fully charged, 25ºC)
Approx. 0.28mΩ
Capacity affected by temperature (10HR)
40ºC
102%
25ºC
100%
0ºC
85%
-15ºC
65%
Self-discharge
(25ºC)
3 month
Remaining Capacity: 91%
6 month
Remaining Capacity: 82%
12 month
Remaining Capacity: 65%
Nominal operating temperature
25ºC±3ºC(77ºF±5ºF)
Operating temperature range
Discharge
-15ºC~50ºC(5ºF~122ºF)
Charge
-10ºC~50ºC(14ºF~122ºF)
Storage
-20ºC~50ºC(-4ºF~122ºF)
Float charging voltage(25ºC)
2.25 to 2.30V
Temperature compensation:
-3mV/ºC
Cyclic charging voltage(25ºC)
2.42 to 2.48V
Temperature compensation:
-5mV/ºC
Maximum charging current
200A
Terminal material
Copper
Maximum discharge current
7500A(5 sec.)
Designed floating life(20ºC)
20 years
Saugfähige Glasmatte Technologie;
Anerkannt von UL & CE;
ABS-Behälter.
Maße
Terminal: M8
Konstante Stromentladungseigenschaften (A, 25ºC)
| | | | | | | | | | | | |
| --- | --- | --- | --- | --- | --- | --- | --- | --- | --- | --- | --- |
| F.V/TIME | 30min | 60min | 2h | 3h | 4h | 5h | 6h | 8h | 10h | 20h | 24h |
| 1.60V | 900 | 600 | 365 | 260 | 209 | 182 | 156 | 122 | 102 | 53.4 | 46.3 |
| 1.65V | 882 | 591 | 363 | 259 | 208 | 180 | 155 | 122 | 102 | 53.3 | 46.2 |
| 1.70V | 855 | 576 | 360 | 257 | 206 | 179 | 154 | 121 | 101 | 53.2 | 46.1 |
| 1.75V | 834 | 565 | 355 | 255 | 205 | 178 | 153 | 120 | 101 | 52.9 | 45.8 |
| 1.80V | 804 | 547 | 346 | 247 | 199 | 173 | 148 | 116 | 100 | 52.5 | 45.5 |
Konstante Leistungsentladungseigenschaften (Watt, 25ºC)
| | | | | | | | | | | | |
| --- | --- | --- | --- | --- | --- | --- | --- | --- | --- | --- | --- |
| F.V/TIME | 30min | 60min | 2h | 3h | 4h | 5h | 6h | 8h | 10h | 20h | 24h |
| 1.60V | 1683 | 1140 | 705 | 510 | 410 | 358 | 307 | 244 | 203 | 107 | 93.1 |
| 1.65V | 1649 | 1123 | 701 | 507 | 407 | 356 | 306 | 242 | 202 | 107 | 92.9 |
| 1.70V | 1599 | 1094 | 695 | 503 | 405 | 353 | 304 | 240 | 202 | 106 | 92.6 |
| 1.75V | 1560 | 1073 | 684 | 500 | 402 | 351 | 301 | 239 | 200 | 106 | 92.1 |
| 1.80V | 1503 | 1040 | 667 | 485 | 390 | 340 | 292 | 232 | 199 | 105 | 91.5 |
Hinweis: Die obigen Kenndaten können innerhalb von drei Lade- / Entladezyklen erhalten werden
Produktgruppe : Netzwerk/Gangreserve Batterie > Standard-Serie Akku